Welcome to Our World of Risk Management
Redefining risk. This has been our credo for over 20 years.
Since day one, we've been reshaping the way the world thinks about risk. You could say it's in our DNA.
While others fear risk, we embrace it. While others see risk management as the brakes that halt progress, we see it as the rocket fuel that launches businesses to unprecedented heights.
Why Is Redefining Risk Important?
The world today is more volatile than ever before and attitudes have understandably changed. All stakeholders from members, shareholders, regulators and the general public are now demanding better risk management from organisations.
What was once a backstage concern must now play a leading role. The reality is, if you want to be better as a company, you need to get better at taking risks.
But we see risk management as more than just managing expectations. For us, it is the gateway to exciting new opportunities and accelerated growth.
It's Time to Celebrate
For over 20 years, we've worked tirelessly to raise the bar for risk management.
We've pioneered cutting-edge solutions that have changed the face of the industry.
We've unleashed new possibilities for organisations of all sizes across a wide range of sectors.
Our efforts have resulted in millions of incidents managed across thousands of individual risks and over 25 thousand people have attended our training courses to date.
What a ride it's been. And this is only the beginning...
Because the truth is, we haven't just been busy redefining risk for our clients… we've also been busy redefining ourselves!
So without further ado, it's time to start your journey in redefining risk with the next evolution of Protecht.
Down Memory Lane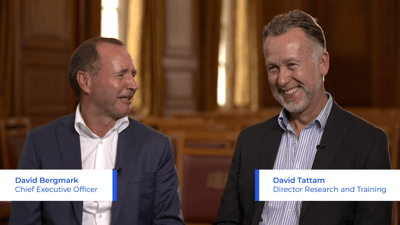 Having worked together at PriceWaterHouseCoopers in the late '80s and then later at Industrial Bank of Japan, our founders, David Tattam and David Bergmark, set their sights on innovating new risk solutions that the industry so desperately needed at the time.
But they needed a name. Out of a taxi brainstorm session one afternoon grew the seed that would become 'Protecht' (a combination of 'Protection' and Technology).
Maybe it's because we share the same name, but it seems like we were always destined to create something groundbreaking together. Even as far back as our time together at PWC in the late '80s, we saw how unsophisticated risk system processes were and knew there had to be a better way.
As the challenges and demands of the business world evolved, so too did Protecht, expanding to provide the most holistic approach to risk management on the market with world-class training, advisory and innovative software solutions.