Establishing an ERM system can be as daunting as building a house from the ground up.
There are hundreds of decisions to be made that will affect how your users engage with the risk management tool. You want to be up and running as soon as possible. Will the system easily grow as your organisation's risk maturity develops? Not to mention, you'll need to maintain the system as new risks emerge and the risk landscape changes.
All this, and you have your BAU work to get done.
That's why Protecht developed Marketplace.
What is Marketplace?
Marketplace makes it easy to implement and scale Protecht.ERM, a sophisticated SaaS solution for integrated risk management.
It provides registers, workflows and analytics pre-configured by industry-leading risk professionals.
There are four reasons why Marketplace is a game changer for your ERM implementation.
Expert guidance
With over 20 years of experience in risk, and hundreds of customers across different industries, Protecht knows what makes a quality ERM system. Understanding what stakeholders need – risk and compliance specialists, front line users, executive teams and the board – is at the heart of what we do.
This deep expertise in risk and compliance management has crystallised as best-practice content through Marketplace. Instead of designing from scratch, or trying to find out what your peers in market are doing, you can access expert guidance through Marketplace's templated registers, workflows and analytics.
Speed and simplicity
Implementing an ERM system may be necessary, but it may take focus away from your strategic work. Designing, building, testing and delivering an ERM system imposes a significant time and effort overhead that could be spent on other projects.
Marketplace's pre-configured registers, dashboards, reports and more help you implement a system quickly, with packages installed and enabled in less than 15 minutes.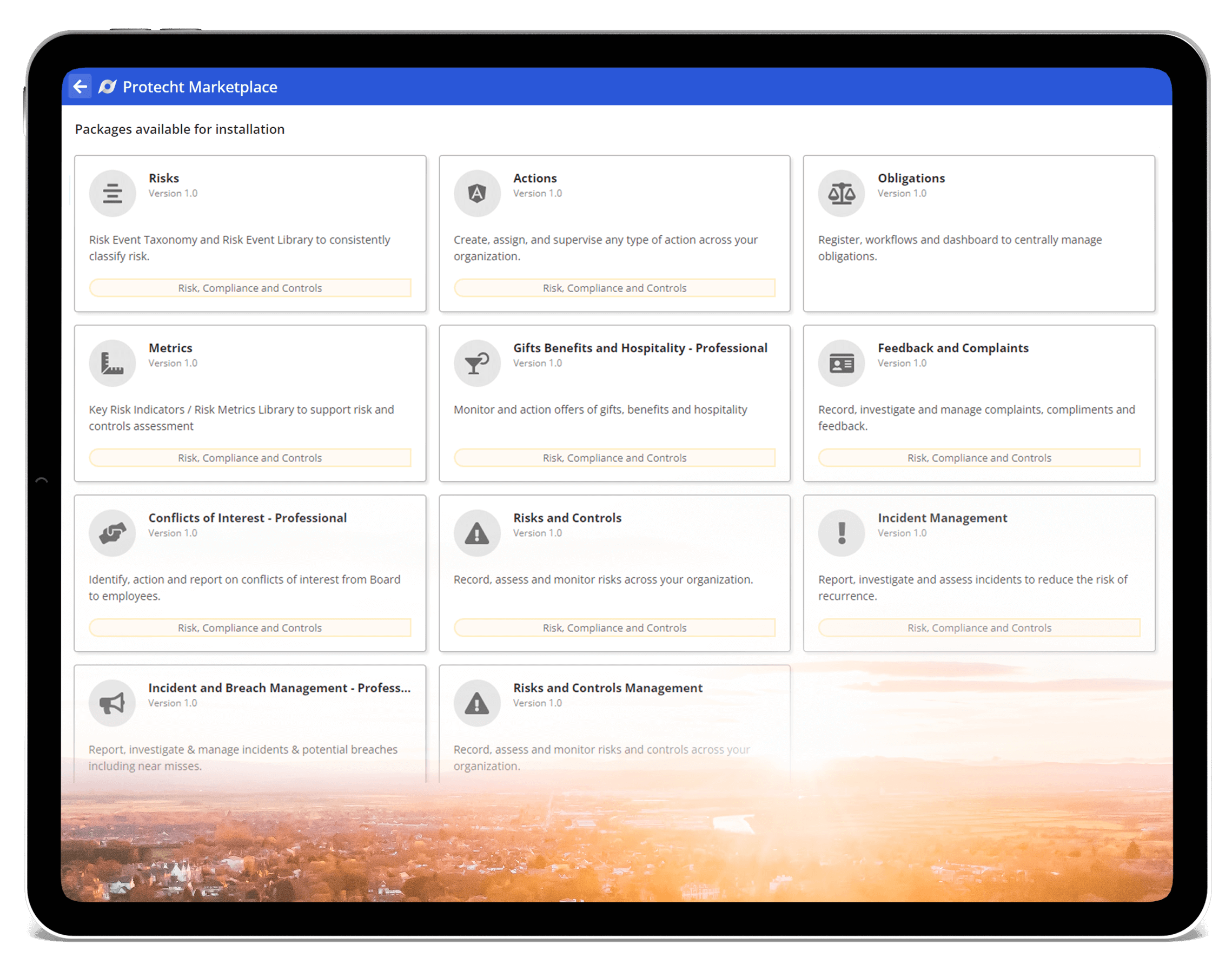 Examples of packages available for installation from Protecht Marketplace
Currency
Nothing stays still, and it would be risky if your ERM system did so.
Risk and compliance managers are under constant pressure to proactively manage emerging and growing risk issues, such as ISMS/cyber risk and third-party risk. On top of that, regulatory and standards changes mean your ERM system is never 100% "done".
With Marketplace, you're kept on top of these changes. You can access new content to meet emerging risks, and updates to ensure that your system is up-to-date with fresh regulator requirements or changing market standards.
Maturity pathway
The "State of Enterprise Risk Mananagement 2020" report[1] found that nearly two-thirds of respondents had defined processes for risk identification, but only 38 percent believed that those processes were at either the managed or optimised level. It's likely that even this 38 percent didn't start at a managed or optimised level of risk maturity.
Protecht understands that risk maturity is a journey, so Marketplace has three packaged offerings – Foundation, Professional, and Advanced.
Foundation – is ideal for organisations getting started on risk management, who need an ERM solution that covers the core risk areas.
Professional – is designed for organisations extending from operational risk into other risk domains such as third-party risk and IT risk.
Advanced – is configured for organisations optimising their risk programs by integrating across multiple domains with more comprehensive registers, dashboards and reports.
With a consistent framework behind these offerings, organisations have the ability to "level up" within the system as their risk methodology matures.
Quality, speed, currency and maturity in risk management. These are the benefits Protecht is passionate about bringing to the industry.
If you'd like to know more about Protecht Marketplace, you can book a demo here.
---
1 "State of Enterprise Risk Mananagement 2020" by ISACA, Infosecurity and CMMI Institute https://www.isaca.org/-/media/info/state-of-enterprise-risk-management-survey/index.html