Connecting the dots (in this case, the risks).
It has been a bit of a journey over the last 15 years. At Protecht, we started with the vision of a SaaS enterprise risk management solution that allowed connection of risk to the core components of what was back then, considered an ERM framework. This meant that our central library of risks was not only used in the risk and control assessments but also linked to key risk indicators, attestations and incidents. This enabled our client base to get a more fluid picture of risk and was the genesis of the RiskInMotion™ concept.
What was missing back then was the business intelligence engine to bring it all together.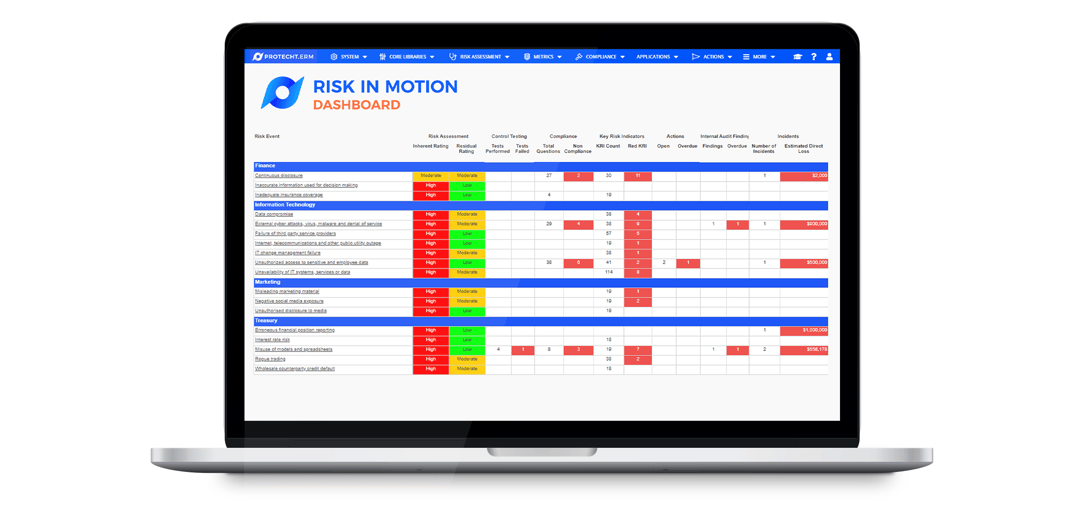 Risk in Motion dashboard from Protecht.ERM, our enterprise risk management system software, showing inherent and residual risk assessments,
compliance attestations, key risk indicators and actions attached to risks
Roll forward to 2018 and there are even more dots to connect. Over the last 5 years we have seen our clients rapidly build and deploy the following additional web-based forms to capture, workflow and report on risk related information pertaining to:
Fraud
Supplier due diligence
Conflicts of interest
Internal audit findings
Complaints
Compliance breaches
Business continuity plans and tests
Conflicts of interest
New products evaluation
Ex gratia payments
Policy management
Apart from making the capture and dissemination of this information more efficient, we can then aggregate the data captured in these forms into a metric and connect it to the relevant risk:
Fraud: Number or dollar value committed during the month - connect to external fraud events.

Supplier Due Diligence: Dollar value of contracts executed, number of conflicts reported, contracts up for renewal in the next 90 days - connect to procurement risk.

Internal Audit Findings: Complaints, ex gratia payments – all entries can be connected to the relevant risk they relate to.

BCP plans and tests: Failed tests, plans outstanding – connected to hardware, software, infrastructure failures. And so on.
By connecting this information to their associated risks, the first line has a better picture of the risks they are assessing.
The second line can more easily challenge first line assessments.
The third line is now armed with more relevant information to support a risk-based approach to audits. Risk Committees have information that allows them to independently form an opinion on the top risks presented to them.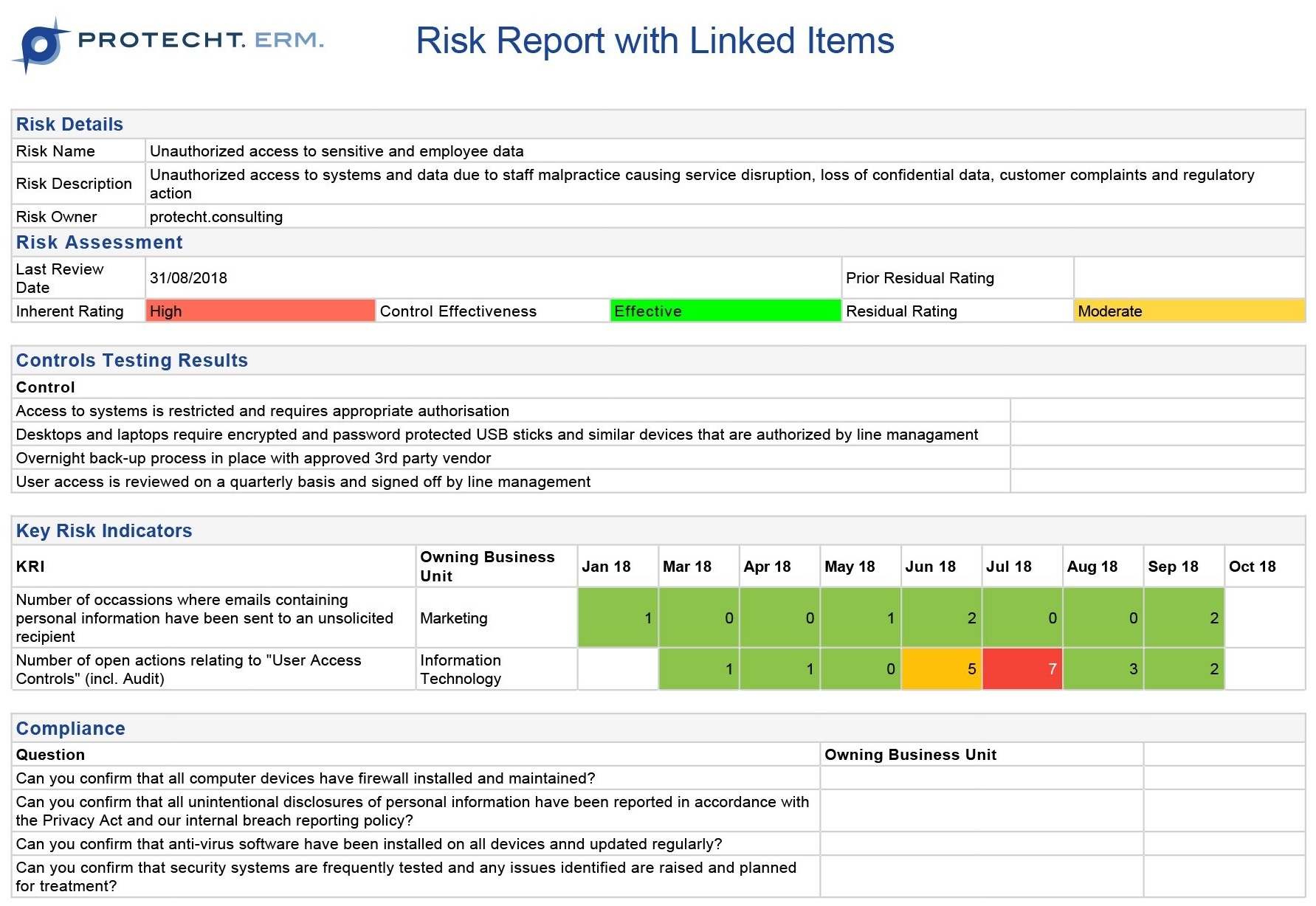 A risk report generated from Protecht.ERM showing a risk with all its linkages
I love the application of technology to supporting and improving processes in business. Protecht.ERM makes the above a reality through its flexible form builder and integrated business intelligence engine.
Click here to learn more about our enterprise risk management platform.