One of the early observations we have made from the COVID-19 crisis experience to date relates to the operations of the war room and the crisis management team in managing the crisis.
In many cases, the set up and operation of the crisis team has been a "seat of the pants" experience using quickly put together processes, reporting, communications and decisions.
We believe that a key lesson will be the need to embed planning for the "war room" operations into the Disaster Recovery (DR) and Business Continuity plans (BCP) going forward where lessons learnt will help plan ahead for how the crisis management team will operate from Day 1. This planning will need to be detailed enough to be useful from Day 1 of a crisis yet broad and flexible enough to be relevant for a range of crises that may occur, each one different in nature and required response.
Performing a Pandemic Organisational Health Check
One of the "tools" that we have seen used during the crisis is a COVID-19 Organisational Health Check.
We have developed an example of such a health check which looks at a range of questions relating to each aspect of the business affected by the crisis. This is an example only and we would expect it to be tailored for each organisation both in terms of the focus areas and also the specific health check questions addressed.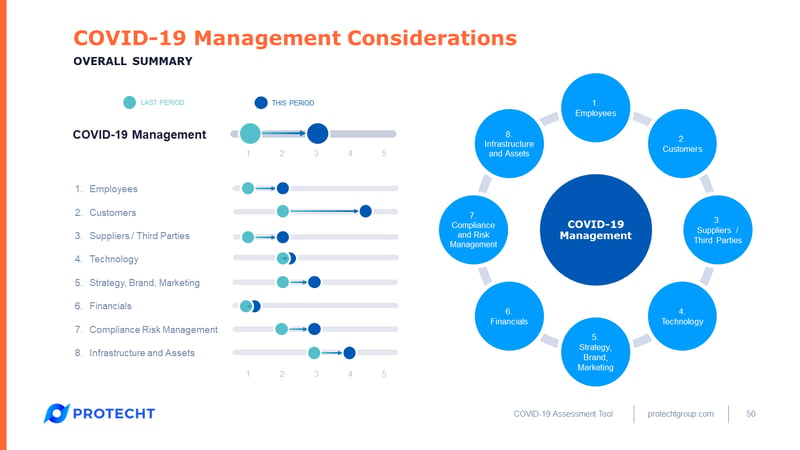 Our example Health Check tool includes a summary page which can be included in board reporting packs.


The assessment tool is split into 8 focus areas, which you can expand and update to suit your industry:
Employees
Customers
Suppliers/Third Parties
Technology
Strategy, Brand, Marketing
Financials
Compliance and Risk Management
Infrastructure and Assets
Each area of focus is also split into sub-categories, with a set of sample questions to get you started.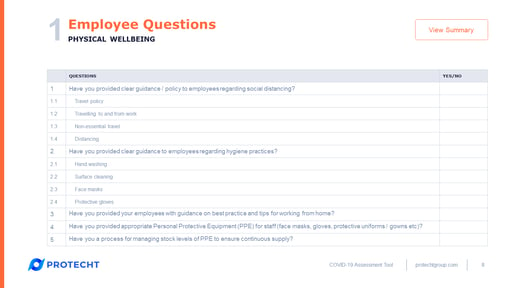 Each focus area includes sample questions split into sub-categories.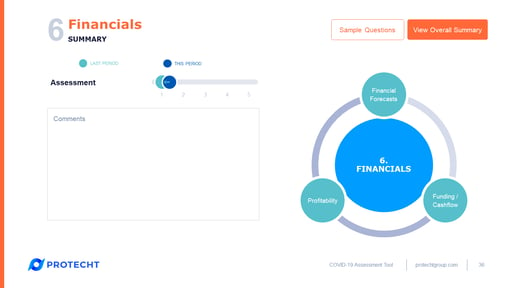 At the end of each section, you can update your overall assessment and include comments.

After you answer the sample questions, you can use the sliders on the summary pages to enable you to score your status and progress period-on-period for each focus area and for your entire COVID-19 management plan.
We are sharing this with you in the hope that it may add value to what you are currently doing but also for consideration into future disaster planning.
Assessing COVID-19 risks in Protecht.ERM
The COVID-19 Organisational Health Assessment Tool is embedded within our Protecht.ERM system.
You can link Issues and Actions to each assessment, as well as create and schedule visual dashboards for your reporting pack.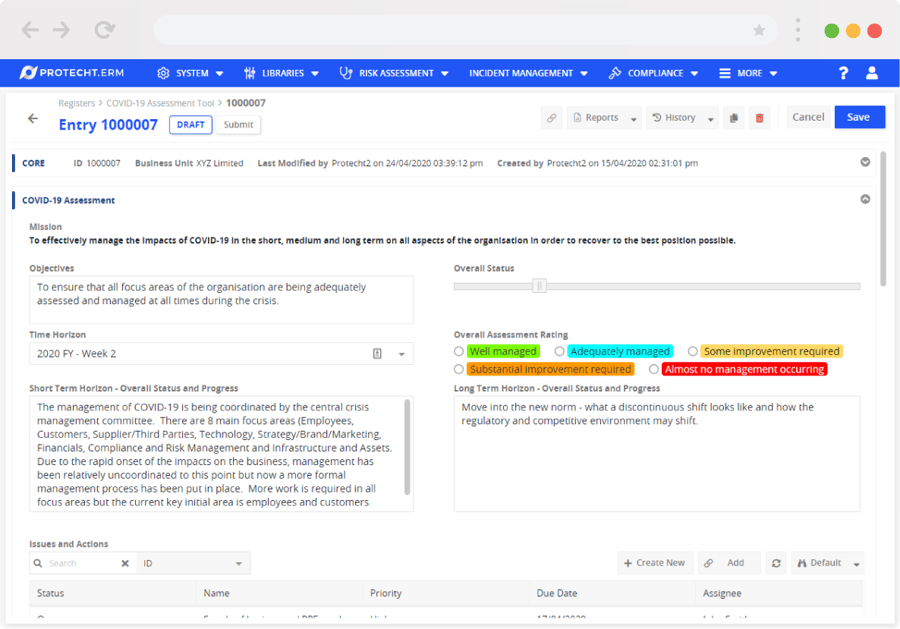 Protecht.ERM lets you dynamically manage all your risks in a single platform, including: Risks, Compliance, Health and Safety, Internal Audit, Incidents and KRIs.
To learn more and see the COVID-19 Assessment Tool in Protecht.ERM in action, get in touch with us to request a demo.