Inflation is on the rise, pushing up the cost of living. They say a picture is worth a thousand words, in which case this picture is a good place to start: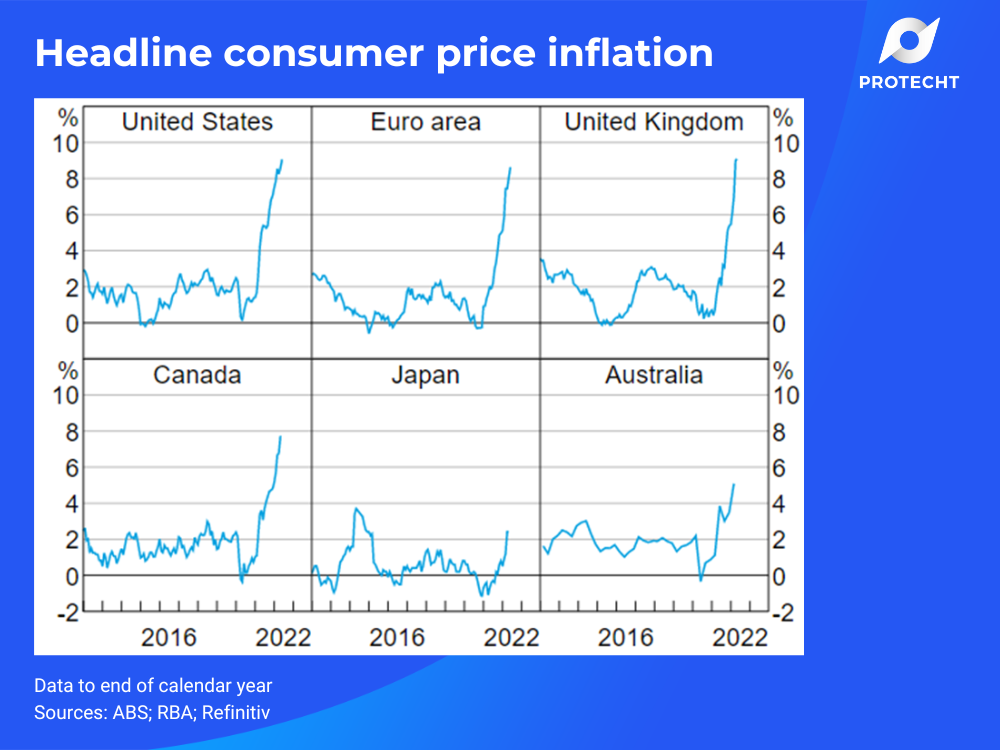 This set of graphs show that major regions except for Japan are experiencing the highest inflation they have had in more than 10 years, and all are accelerating. UBS Chief Economist Paul Donovan suggests that these inflation levels won't last much longer, but for the moment, the increased cost of living is putting pressure on households and is driving labour strikes and industrial action across the globe.
Union leaders in Australia are declaring 2022 the year of the strike, while Unite, the largest private sector union in the UK, has labelled this year the summer of discontent – a reference to the 1979 'winter of discontent' which saw almost 30 million working days lost due to strike action. In the US, the Biden administration has created an emergency board to head off potential supply chain disruption.
Let's look at:
The types of strikes that are occurring
What it might mean for your organisation
Any actions you might be able to take
What strikes are occurring?
Many labour unions or trade organisations are attempting to negotiate higher pay packets or improved working conditions for their workers. On top of inflation, some workers are citing the challenges they have had to face during the last few years due to COVID. These strikes are taking place across essential sectors.
Transport
CNBC has reported a number of ongoing labour discussions or disputes that may disrupt supply chains. This includes billions of dollars of trade locked in vessels anchored off the coasts of the US and Europe. Some of that trade has made its way to shore but is waiting for commercial rail to be able to deliver it. Given the pile-up, the Biden Administration issued an Executive Order on 15 July to establish an Emergency Board to head off potential rail strikes that might otherwise have significant impact on the economy.
In Australia, the passenger rail network is also being threatened with disruption, with the New South Wales government losing a recent bid to terminate potential union action. More broadly, a state-wide strike of public sector workers occurred in NSW in June, including teachers, police and other frontline staff.
Healthcare
Hospitals in Australia are also facing strikes and union action amid concerns over patient safety. In the US, Beckers Hospital Review has covered 10 labour strikes across healthcare in 2022, often numbering over 1,000 employees.
Aviation
We recently commented on the woes in the airline industry, some of which are driven by staff shortages. Various strikes are occurring or being threatened across passenger airlines and airports, adding further potential for disruption to passengers. This includes strikes by Ryanair cabin crew, ground staff at Paris's Roissy-Charles de Gaulle airport, and disputes at Prestwick Airport in Scotland. British Airways recently reached an agreement with its check-in employees to avoid further action.
In some organisations, the tension between employers and workers has reached boiling point. Approximately 900 pilots for Scandinavian carrier SAS walked off the job for an indefinite strike on 4 July 4. Although there has now been an agreement, SAS initially responded by saying that the pilots' actions would destroy the company as it filed for Chapter 11 bankruptcy protection in the US.
Food and retail
The US food and retail industry is also being beset by walkouts from staff, many related to unresolved poor conditions in addition to pay parity.
What do potential strikes mean for your organisation?
Exposure to strikes and labour disputes will be different for each organisation. For some, you will have employment groups which are organised in a way that makes them more likely to strike. The impacts for those organisations are likely to be more immediate and severe, particularly the inability to provide services to customers, which may result in revenue loss. On the other hand, you have more ability to influence the likelihood of labour action. While the costs and impact on other business objectives will have to be considered, you can review or change working and employment conditions. Often the underlying drivers are known or at least knowable; your workforce will tell you what they want to change before they threaten to strike.
However, most organisations may also be impacted from strikes affecting their supply chain, particularly those served by the transport sector. You may have more lead time before you are directly impacted and can prepare accordingly. The downside to this source of disruption is that you have less ability to control it.
So what can you do?
First, understand how exposed you are. If parts of your workforce (whether by profession or region) are unionised or organised, you likely already have processes in place to engage with these groups.
Consider whether labour shortages or strikes will affect key suppliers in your supply chain. To the extent you are able you can consider investing in extra inventory, adding contingency suppliers or reducing single points of failure, or pre-preparing contingency communication plans to impacted stakeholders if supply chain disruption eventuates.
If the impact is likely to be significant, you can consider running scenarios with leaders or executive teams. It's impractical to develop a plan for every scenario – but scenario testing will develop management team muscle that is more able to respond to whatever events are thrown at them. In the meantime, we hope you aren't hit by labour strikes but as the saying goes, hope is not a strategy.
Financial services regulators are leading the way in driving operational resilience, but shouldn't it be a core focus of every organisation's ERM capability? Join us on Thursday 28 July 2022 for our Operational Resilience: The ultimate goal in risk management webinar to find out what it means to be resilient and how you can integrate resilience into your ERM framework.