Multinational toll road operator Transurban needed to enhance its compliance system. Protecht was able to deliver the platform they needed. The flexible, easy-to-use system has enabled Transurban to build a highly visible, responsive compliance culture at all levels of the business.
Background
Transurban is a multinational toll road operator which builds, develops and manages road infrastructure across Australia, the United States and Canada. As such, it must deal with complex legal and regulatory compliance issues that relate to multiple stakeholders and regulators across different countries, states and provinces.
The overall scope and complexity of Transurban's risk profile has grown over the past few years, particularly in compliance, with the company's expansion in local and international markets as well as an increased focus on risk strategy among regulators and investors alike.
To meet increasing compliance demands, the business needed to evolve its strategy and approach. The existing compliance management system was seen as cumbersome and lacked the reporting capabilities to meet internal stakeholder requirements. It also did not integrate with other systems to provide a more holistic organisational wide view of compliance.
Transurban needed a compliance system that offered the ability to flex the way they needed it to flex.
"We weren't getting the business engagement that we needed. People were struggling with using the old system because it wasn't flexible and it wasn't giving them the ability to respond and look at information in a realistic or timely way."

Tracie Heyward, Head of Compliance & Privacy, Transurban
The project
Transurban made the decision to shift to a new compliance management system.
The system needed to be flexible in a way that could adapt to the future growth of the business and respond well to increasing complexity, supporting differing requirements across different regions without becoming overwhelmingly complex for team members and the general business to use.
The biggest challenge was to ensure that the new software could be rapidly implemented, meeting Transurban's requirements. Protecht was able to handle these requirements with relatively minor levels of configuration, with the system initially built around the Protecht system's compliance modules.
Modules covered
The Protecht system allowed a much wider level of compliance reporting than the previous system, with modules covered including:
Compliance
Complaints
Gifts and Benefits
Conflicts of Interest
Obligations and Actions
Regulatory compliance (provided jointly with LexisNexis)
The initial roll-out was based around the compliance obligations module, but usage and demand for the system rapidly expanded to encompass a much broader suite of compliance products.
How the Protecht system helped Transurban
The new system gave Transurban the ability to build a more mature proactive compliance function with improved ability to understand its broader compliance environment. Live dashboards and the ability to interrogate data made it much easier for the Compliance team to get a holistic picture of the compliance environment.
Integrated reporting
The provision of compliance registers such as Gifts and Benefits to be captured in the one system has provided for an uplift in the integrated performance reporting of compliance requirements.
Process improvements
As well as saving time and money from risk outcomes, Transurban's Protecht system saves time in both the compliance function and for business teams. For the compliance team, all the key information is readily available and can easily be accessed, and with much more buy-in to the software system from the rest of the business, there is less need for manual data entry processes.
Configurability
Protecht's configurability has ensured that forms, declarations and registers can be customised easily to suit the requirements imposed by particular regulators, teams, or projects. For example, this included the need for bilingual (English and French) attestations in Canada, which Protecht could easily support and add to the system.
"We've taken the basic Protecht system and adapted it into what we need it to be. Because it's a flexible system, we've been able to make it fit what we need it to."
Simplified data entry
Protecht has allowed Transurban to simplify the end-user experience and enhance the reporting and oversight of the compliance process. End users fill out compliance forms relevant to their area and the compliance team has been able to simplify the language of the questions.
The branching logic of the Protecht system allows dependent questioning, where a particular response will open up targeted follow up questions and an ability for "no" to be the compliant response. This agile approach prevents users having to go through a complex data entry form presenting large amounts of irrelevant information.
Sample Protecht compliance question library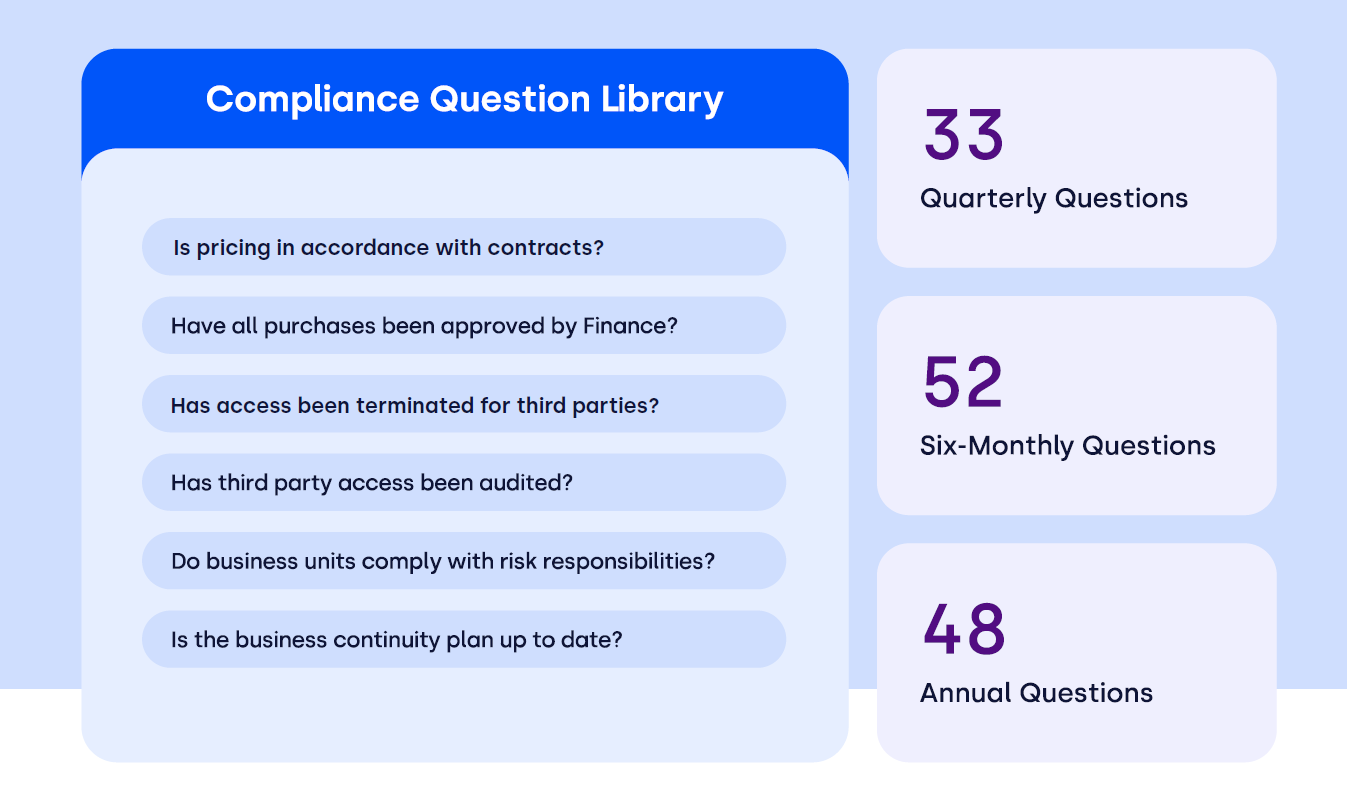 Beyond software: building a compliance culture
The Protecht system supports Transurban's compliance culture at all levels of the organisation, by ensuring:
The Board and Executive Committee can remain fully informed about the organisation's compliance performance
Compliance management and Audit can oversee that the company is meeting its documented compliance requirements
Individual staff members in business teams are able to proactively engage directly with the compliance needs of their unit, making it less of a box-ticking exercise and more of a core business need.
The combination of a compliance culture and the visibility provided by Protecht has been beneficial to Transurban's managers: they know what they have to do from a compliance perspective and can easily see this information. This has been enhanced by Protecht's partnership with LexisNexis to integrate regulatory compliance into the system.
The end result has been that everyone is aware of potential issues and problems at a much earlier stage than was previously the case. Managers can respond sooner should an issue arise reducing response time, which can make a huge difference in terms of avoiding or reducing any potential penalties and other business impacts.
"People understand what they need to do, and they have a good sense of what's coming up in their future and how they need to respond so they're not taken by surprise."
Conclusions
No organisation can ever be complacent about its compliance status. Having an appropriate compliance policy and process as well as a trusted system in place allows the compliance team to focus on providing meaningful support to the business, to develop longer term strategic projects and understand the longer-term compliance risks the business may face.
This integrated approach to compliance management, supported by a centralised organisation-wide compliance system has allowed the business to harness business intelligence, share compliance management knowledge and controls. Which in turn has enabled the business to make innovative and rapid strategic decisions based on these insights.
"In the end, it makes us more efficient because we know what we have to do, and we have the ability to do what we say we will do."
About Transurban
Transurban builds and operates toll roads in Australia, the United States and Canada. As one of the world's largest toll-road operators, everything they do works to get people where they want to go, as quickly and safely as possible – from designing and building new roads to researching new vehicle and road safety technology.